Translate To: French, Italian, Portuguese
Spread The Light is organized and run by more than 20 "Harry Potter" fan sites and youtubers from around the world (for the full list, see below). The goal of this fundraiser is to help raise funds and awareness to the important work the Anne Rowling Clinic does. Founded in J.K. Rowling's late mothers' name, it provides out care for patients with multiple sclerosis and other Neurodegenerative diseases as well as cutting edge research and clinical trials. Despite MS, they treat conditions such as Parkinson's, Huntington's among other life-threatening conditions which currently have no cure. With your donation, that could change!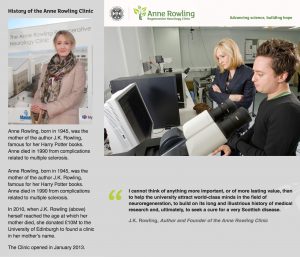 We are running a huge prize draw as part of the fundraiser with grand prizes that includes countless autographs from the "Harry Potter" cast/crew, a personalized thank you letter from "Fantastic Beasts" star Alison Sudol, signed books plus so much more! (For a full list, click here.)
Frequently asked questions and terms and conditions on the prize draw plus how you can enter for free can be found here.
Donate now until July 31st!

The following fan sites organized Spread The Light: Always J.K. Rowling, Potterish, Univers Harry Potter, Animagos, Accio News, Hogwartsite, Potterveille, Animais Fantásticos Brasil, The Rowling Vault, O Profeta Diário, Harry Latino, Portkey, Gazette Du Sorcier, The HP Fan, HPANA, Wizards and What Not, Giratempo Web and Observatório Potter.
Please note, Spread The Light is an unofficial fundraiser made by fans for fans. While we are in contact with the Anne Rowling Clinic, we are not affiliated with them, J.K. Rowling, Warner Brothers, Bloomsbury, Scholastic, Little Brown or anyone else related to J.K. Rowling and her works. All trademarks and copyrighted material are the property of their respective owners. Any questions, please email us: [email protected]
Donate/ Contact/ Twitter/ Facebook/ Tumblr